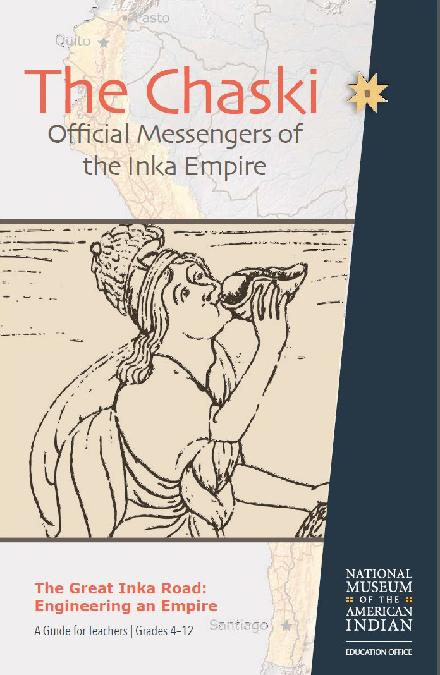 Use this new Teacher's Guide, designed for Grades 4-12. Spanish version!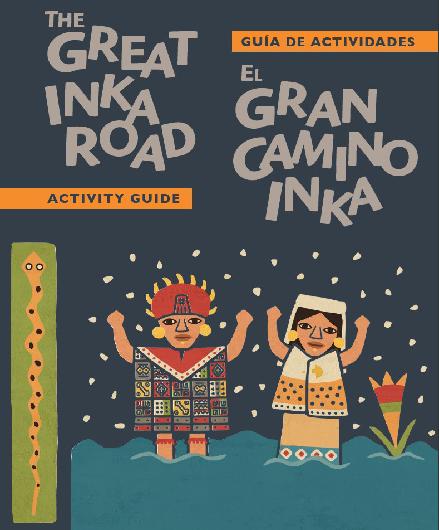 Use this Children's Activity Guide to explore the Inka Empire and its legacy through STEAM-focused activities: science, technology, engineering, arts, and mathematics. This guide supplements the exhibition, The Great Inka Road: Engineering an Empire.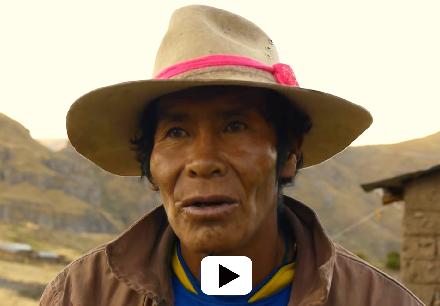 Victoriano Arisapana Huallhua (Quechua), architect of the Q'eswachaka bridge in southeastern Peru. Use this three-minute video, Weaving the Bridge at Q'eswachaka, in the classroom to connect to science and engineering standards.





Quechua bag for carrying seeds, amulets, and small items, ca. 1950-1970. Sacaba, Bolivia. Camelid hair. NMAI 14/3355

Why are llamas and alpacas so important for Andean Native populations?
They provide Native people with meat as nourishment, wool for clothing, and llamas have been a reliable way to move goods. Both are often decorated with "flowers" in their ears and llamas are sometimes even painted to show the love and affection that the Quechua people have for them.

Are llamas and alpacas social?
Yes! They are considered to be one of the most social domestic animals in the world. They have a gregarious behavior and always gather in groups. Llamas, alpacas and humans have gotten along very well and, for that reason, they came together to populate the highlands of the Andes.





Test your knowledge:

What is a chaski and what did they do?

a. Chaskis were short-distance relay runners who delivered official messages throughout the Inka Empire.

b. Chaskis sometimes carried special goods in their bags for Inka royalty, such as fresh fish or spiny oyster.

c. Chaskis began training at an early age under strict living conditions.

d. Chaskis' job was so important that they were exempt from work-based taxes, or mit'a, such as farming.

e. As a chaski approached, he sounded a shell trumpet to alert the next runner he was close.

Answer: All of the above!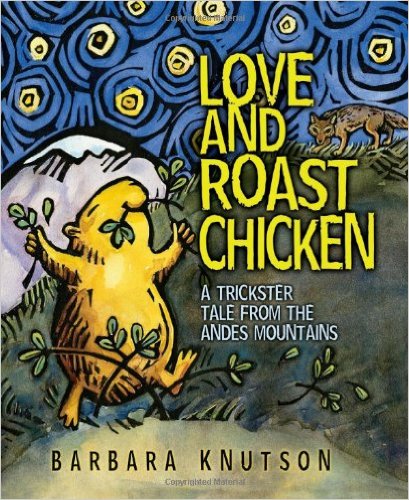 Love and Roast Chicken, Ages 4-7, by Barbara Knutson

Kiwala series (Spanish), Ages 5-8, by Ana María Pavez

Lost City: The Discovery of Machu Picchu, Ages 7-10, by Ted Lewin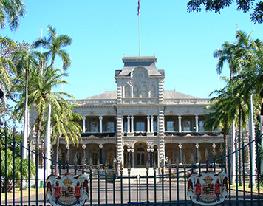 `Iolani Palace, Honolulu, Hawai`i, 2003. Photo by RDK Herman, NMAI.

Ua Mau Ke Ea: The Sovereign Hawaiian Nation
Opens January 17, 2016 at NMAI-DC

This exhibition takes visitors through the history of the Hawaiian Nation from the consolidation of the islands by King Kamehameha I in 1810 to the resurgence of Hawaiian nationalism today. Developed by the museum in close collaboration with Hawaiian scholars, political leaders, and community members, the exhibition presents Hawai`i's contested past and the possibilities of its future.



Hello Teachers!

Do you have your lessons ready for Native American Heritage Month? Here is a new Teacher's Guide and Children's Activity Guide that can be used in the classroom! The Chaski Teacher's Guide is designed for grades 4-12. The Teacher's Guide provides content and strategies for teaching about the Inka Road, one of the most monumental feats of engineering in the world!

It's important to know that the Inka began their rise in the 1200s. Based in Cusco, Peru, they grew first into a small kingdom, adapting many practices and policies of earlier cultures, including the Chavín, Tiwanaku, Wari, and Chimú. In 1438, Inka rulers began to conquer neighboring territories, eventually creating the largest empire in the Western Hemisphere. The Inka Road allowed the empire to organize people, control goods, enforce taxes, and provide spiritual sustenance. Even today it is a vital part of the six countries through which it passes.

Don't know what a chaski is? Learn more below in our Did You Know section! Also included in this issue are links to NMAI's bilingual award-winning website related to NMAI-DC's new exhibition The Great Inka Road: Engineering an Empire. Finally, there's the origin story of the Inka, included for classroom use. Whether you teach in the STEM/STEAM subjects or social studies we invite you to look around, adapt the content for your needs, and share the amazing feats of the Inka people and their ongoing continuity today!

Gracias!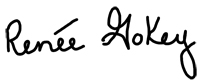 Renée Gokey (Eastern Shawnee/Sac and Fox/Miami)
Education Extension Services




Teacher's Workshop: Central American Ceramics

Thursday, October 15, 2015, from
4:00 - 6:30 p.m. in the
Diker Pavilion at NMAI-NY Co-sponsor: Smithsonian Latino Center
Join members of the Smithsonian Latino Center and the National Museum of the American Indian in New York for a tour of Ceramica
de los Ancestros: Central America's Past Revealed and a hands-on workshop. Participants will create their own ceramic pot based on designs from the exhibition, as well as learn about and re-create the topography of Joya de Ceren, El Salvador, a pre-Columbian Maya farming village and UNESCO World Heritage Site. All participants will receive a gallery guide, exhibition catalogue and bilingual coloring book. The workshop is appropriate for teachers of all grades and abilities.

$15 material fee. Register via email at NMAI-NY-Education@si.edu.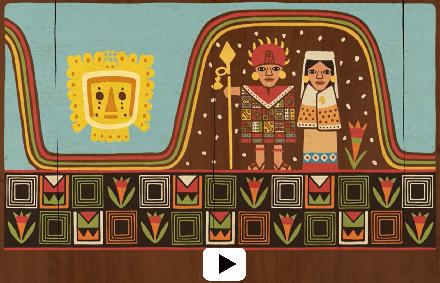 This four-minute video, Origin Story of the Inka, tells how Manco
Capac and Mama Ocllo emerged from Lake Titicaca. They headed
north to found the city of Cusco on a path that became the first
Inka Road. Produced by the National Museum of the American
Indian; narrated by Xozy Quiguango.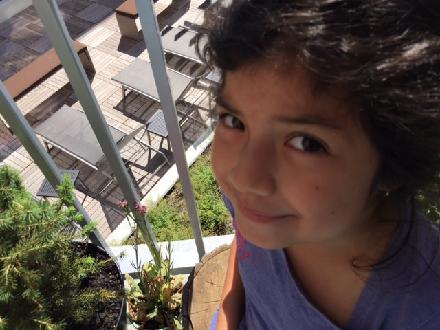 Xozy Quiguango, 2015. Photo by Veronica Quiguango, NMAI.

NMAI recently caught up with Xozy Quiguango, 6 years old, on a Friday night via Skype before her violin class. She was eating a fresh fish dinner with rice and lemon and talked with us about her experience narrating the Inka Road origin story that's provided in this issue. Here's what the first-grader had to say:
What is your favorite subject at school? Books! I don't like reading out loud, some are too easy, plus I can read faster in my mind. I know how to read chapter books, I learned when I was 4.

Can you tell us more about any fun activities that you and your family did in Ecuador? When I was little I used to pick yellow berries, called uvillas in Spanish and Cape gooseberries in English. In other literature they are known as Inca berry or goldenberries. They were a great treat to eat and fun to pick. (Kichwa is the term used for Xozy's roots in Ecuador. In Peru, they use Quechua. Both are part of the Quechuan language and also identified as a cultural group in the Andean region.)

Are there traditions that your family practices today? For example, certain foods that you eat? We celebrate Finados or Day of the Dead in November, typical food is colada morada and guagas de pan.

What are some of your favorite hobbies? Gardening. Last year, I went on a fieldtrip and got a seedling of a tomato plant. Now I'm waiting to pick the two tomatoes I have, they are still green. My mom says I have a green thumb.

Find out more about NMAI's behind-the-scenes work with Xozy here.



El Gran Camino Inka: Construyendo un Imperio - el sitio web de la exposición

The Great Inka Road: Engineering an Empire, exhibition website

Chaski Teacher's Guide English

Chaski Teacher's Guide Spanish

The Great Inka Road, Children's Activity Guide

From NPR: For Inca Road Builders, Extreme Terrain Was No Obstacle

Weaving the Bridge at Q'eswachaka video

Origin Story of the Inka video

The Great Inka Road: Engineering an Empire: 37 short videos from the National Museum of the American Indian

Quechua girl from Ayacucho sings Michael Jackson song in Quechua

Oldest-known phone in the Western Hemisphere made by Chimu people of Northern Peru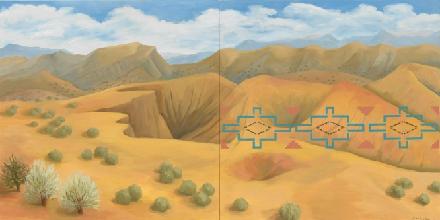 Kay WalkingStick (Cherokee, b. 1935), New Mexico Desert, 2011. Oil on wood panel, 40 x 80 x 2 in. Purchased through a special gift from the Louise Ann Williams Endowment, 2013. (26/9250)

Kay WalkingStick: An American Artist
November 7, 2015 - September 18, 2016 at NMAI-DC

Press Release
Symposium
Catalogue

Kay WalkingStick: An American Artist is the first major retrospective of the artistic career of Kay WalkingStick (b. 1935), an enrolled member of the Cherokee Nation and a well-known artist of Native American ancestry. Featuring more than 75 of her most notable paintings, drawings, small sculptures, notebooks, and the diptychs for which she is best known, the exhibition traces her career over more than four decades and culminates with her recent paintings of monumental landscapes and Native places.

Generous support for this project is provided by the National Council of the National Museum of the American Indian.