Announcing a New Digital Outbreak Exhibit
A
newly created digital exhibit
allows online museum visitors to learn about One Health and better understand the spread of COVID-19.
Now Even Easier to Access Outbreak DiY
Thanks to generous private support,
a new online platform
makes it easier for interested organizations to access
Outbreak
Do-It-Yourself exhibit and distribute its educational toolkit when it is safe to reopen their facilities. 140 global venues have exhibited
Outbreak
DiY since 2018!
Because pandemics are experienced differently throughout the world,
Outbreak
DiY's customizable templates allow users to share tailored stories that engage their communities more directly about the issues that matter most to them. A new panel featuring COVID-19 information is now available as part of the toolkit.
Museum Collections May Unlock Clues to Fighting Pandemics
Within the ornithology collection are wild bird specimens from the 1900's that previously tested positive for avian influenza (H1N1). By re-sampling and analyzing these birds, scientists are hoping to recover complete influenza virus RNA genomes and proteomes.
What museum scientists
Logan Kistler
and
Sabrina Sholts
, along with postdoctoral fellow Audrey Lin, find could shed light on evolutionary events of the 1918 human influenza strain and its relation to the circulating influenza strains of today.
Just a few years ago, scientist
Yvonne Linton's
research of the Smithsonian's mosquito collection helped pinpoint where the Zika virus outbreak would spread in the U.S.
It is the combination of our taxonomic expertise, museum collections, and technological advancements that are critical to helping the government, military, and healthcare sector predict high-risk communities and mitigate pandemics.
Save-the-Date for Virtual Events
April 23 @ 2:07 PM EST
Join a live webcast to see Sabrina Sholts, Curator of Biological Anthropology and lead curator of
Outbreak
exhibit, and Mateus Kambale Sahani, medical doctor in the Democratic Republic of Congo, discuss using
Outbreak
DiY to educate communities about Ebola. Moderated by Ron Klain, former U.S. Ebola Response Coordinator.
Tune in for Fighting Pandemics via the
2020 Earth Optimism Summit.
April 28 @ 11:30 AM EST
Participate in a live webinar chat with Sabrina Sholts as she interviews Dennis Carroll, former director of PREDICT, a project of USAID's Emerging Pandemic Threats program to strengthen global capacity for detection and discovery of zoonotic viruses with pandemic potential.
Check out
NMNH Events Calendar
for forthcoming details.
Take a Virtual Tour of the Outbreak Exhibit
Online visitors can
VR experience
the
Outbreak
exhibit from the safety of their homes.
When It's Safe to Reopen Your National Museum
New text and graphic panels about COVID-19 pandemic and 2018-2020 Ebola outbreak will be permanently installed in the onsite
Outbreak
exhibit. They will visually emphasize "What Can I Do?" and provide valuable information to inspire visitors to protect themselves and their communities.
Thanks to Public Health Foundation's in-kind donation, 40 newly recruited exhibit volunteers can complete online training to better facilitate visitor connections with exhibit content when it is safe to welcome guests again.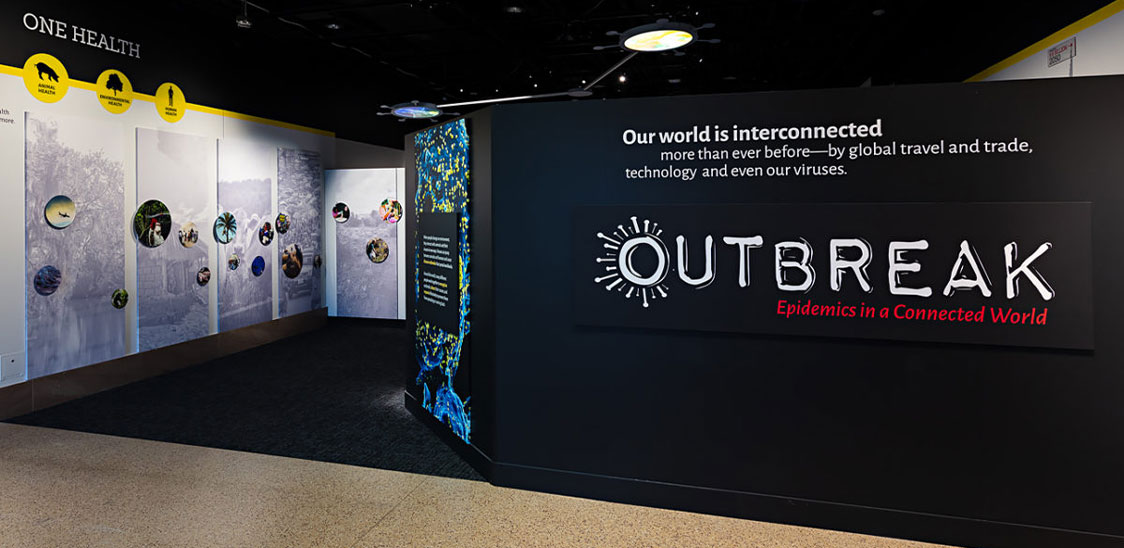 Outbreak: Epidemics in a Connected World exhibition entrance. Photo by James Di Loreto, Lucia RM Martino & Fred Cochard, Smithsonian

Press Highlights

Thank You
It is our partners – your company, your foundation, and you – who help provide free educational resources, digital exhibits, and more to reach millions where they are located during this pandemic. We remain grateful for your partnership with the National Museum of Natural History.