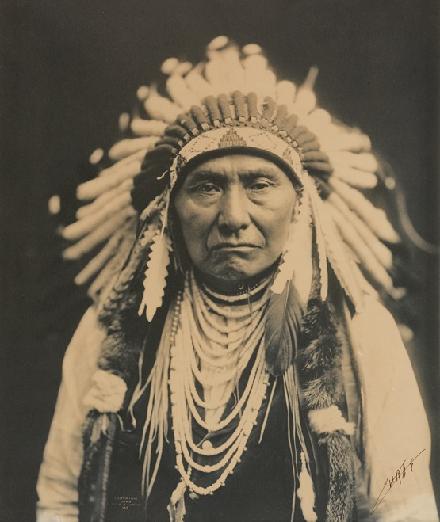 In Mut Too Yah Lat Lat or Chief Joseph (Nimi'ipuu [Nez Perce], 1840-1904), photo by Edward S. Curtis (1868-1952), 1903, platinum print. Gift of Citigroup Foundation, P28574
Learn More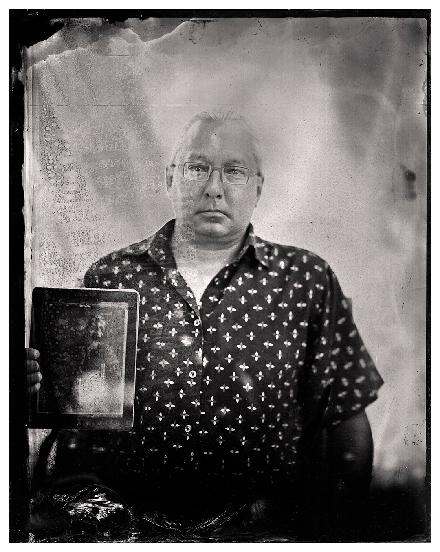 Will Wilson (Diné, b. 1969), Joe Horse Capture, 2012. Digital image of tintype. 26/9274 Learn more!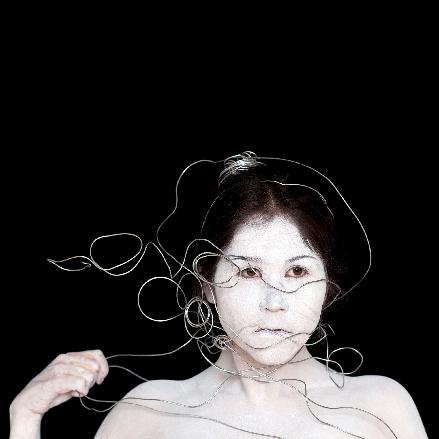 Meryl McMaster (Plains Cree member of the Siksika, b. 1988), Meryl 2, 2010. 26/9635. To learn more: Meryl McMaster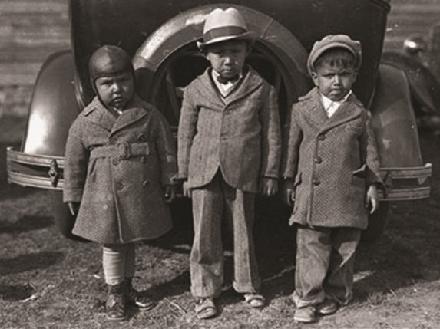 L to R: Newton Poolaw (Kiowa), Jerry Poolaw (Kiowa), Elmer Thomas "Buddy" Saunkeah (Kiowa). Mountain View, Oklahoma, ca. 1928. (57FK1) © 2014 Estate of Horace Poolaw

For a Love of His People: The Photography of Horace Poolaw
November 11, 2016-June 4, 2017
Washington, DC

Horace Poolaw (Kiowa, 1906-1984) was born during a time of great change for his people—one year before Oklahoma statehood and six years after the U.S. government approved an allotment policy that ended the reservation period. A rare American Indian photographer who documented Indian subjects, he began making a visual history in the mid-1920s and continued for the next 50 years. Read More


Git Hayetsk dancer Dr. Mique'l Dangeli, co-director of the Git Hayetsk dance group based in Vancouver, B.C., 2016, photo courtesy of Allan Cotton. Git Hayetsk translates as "People of the Copper Shield." Learn more and watch the dancers here!

Native Fine Art in Motion:
Process and Production

A Native American Heritage Month Pop-up Gallery Featuring Native Fine Arts
November 14-23, 2016
NMAI-DC, 10 a.m.-5 p.m.

NMAI's Native Fine Art in Motion pop-up gallery will showcase the process and production of three artists mastered in Native arts of the Northwest Coast. Mike Dangeli (Nisga'a), Delores Churchill (Haida), and Tommy Joseph (Tlingit) will each produce an item of dance regalia, a work in process, showcasing the intricacies and complexities of creating fine art rooted in deep tradition that incorporates new design and form.

A Native American Heritage Month Celebration of Northwest Coast Dance
November 24-26
NMAI-DC, 10 a.m.-5 p.m.

Join us for a Northwest Coast dance celebration with the internationally renowned West Coast First Nations mask-dancing group, Git Hayetsk (People of the Copper Shield) from Vancouver, B.C., and the award-winning multi-generational Tsimshian dancers Lepquinm Gumilgit Gagoadim (Our Own Dance in Our Hearts) from southeast Alaska. This awareness-oriented program will include humor and theatrical dance to teach about indigenous lifeways of the North Pacific Coast.




For a Love of His People: The Photography of Horace Poolaw

HIDE: Skin as Material and Metaphor
Indelible: The Platinum Photographs of Larry McNeil and Will Wilson






Happy Native American Heritage Month, Teachers!

Do you use photographs of Native people in your classroom? Our photographic collections contain about 100,000 images of Native peoples. We are all probably most familiar with the work of non-Native photographers such as Edward Curtis, who posed his subjects to document an "exotic" and "vanishing race" that reflected the common misperceptions of the time. Often, photographers of those times documented American Indian customs, clothing, and ceremonies, staging people without accurate cultural contexts.

Horace Poolaw, a Kiowa man, was one of the first professional Native American photographers of the twentieth century. An exhibition of his work, For a Love of His People: The Photography of Horace Poolaw, opened November 11, 2016, at the National Museum of the American Indian. It provides an insider's perspective on the Kiowa people and during a time of transition for the Kiowa and the United States. Poolaw once said, "I do not want to be remembered for my pictures, but through my pictures. I want my people to remember themselves."
Poolaw's work, like that of the contemporary Native photographers you see in this newsletter, often reflected his time and place. When comparing Poolaw's work with more current photographers', examine their point of view and how their motivations differed from non-Native photographers. Historically, we are most accustomed to ethnographic approaches to American Indians. Consider how some contemporary Native photographers today use those approaches and misconceptions about "vanishing Indians" to their own cultural advantage. Then bring these photographs and the resources in this teacher e-Newsletter to your students to explore perspective, art, and social, historic, or cultural context to better understand our current situations today. And, if you haven't yet heard of #NODAPL, we encourage you to learn more and use the lesson plans at the bottom of this teacher e-Newsletter.
Niyaawe! (Thank you!)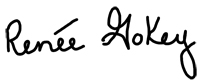 Renée Gokey (Eastern Shawnee/Sac and Fox/Miami)
National Museum of the American Indian
_______________________________________________________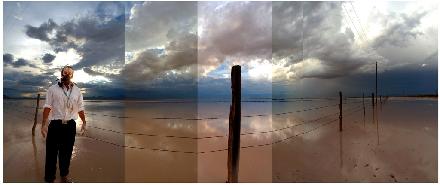 Will Wilson (Diné, b. 1969), Auto Immune Response #6, 2004. 26/5817
To learn more: Will Wilson
What does #noDAPL mean?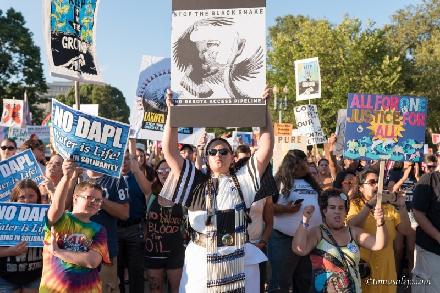 Standing Rock Water Protectors, September 13, 2016, Washington, DC, photograph courtesy of Tomas Alejo

Have you heard of the protests by more than 260 Native Nations to protest the Dakota Access Pipeline from going through the Standing Rock Sioux traditional lands?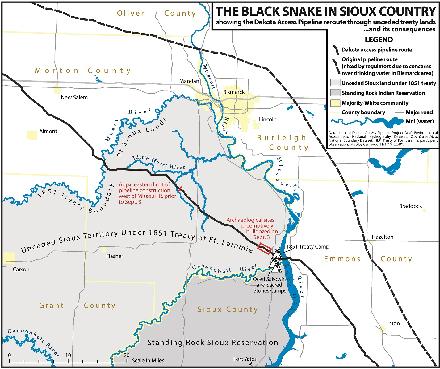 Map by Carl Sack, 2016, CC-BY. Why do you think the map is titled the Black Snake in Sioux Country? Click on the map to print.

The Standing Rock Sioux believe that their water supply will be compromised by the Dakota Access Pipeline sometime in the future. The oil industry believes that access to oil will help our country today. This year's National History Day theme, Taking a Stand in History, asks us to consider historical content to develop perspective and understanding. Yet how is more-distant history related to current events today? How are the Standing Rock Sioux and other Native Nations standing up against the Dakota Access Pipeline? Read this resolution from the National Congress of American Indians and explore the links below to understand connections between treaties, water rights, and Native activism today. After exploring several viewpoints on the issue, ask yourself, How are those opposed to the DAPL taking a stand?
Debbie Reese's blog

Earth Justice

Teaching for Change

NYC Stands with Standing Rock Collective





Why Do Relationships Matter?
An Inquiry-based Approach to the Northeastern Atlantic Fur Trade
Thursday, December 8, 2016
NMAI-NY, 4:30 p.m.-7 p.m.
Recommended for teachers of grades 4, 5, and 7.

Third Thursdays: Dabble in Drawing (Hands-on Workshops)
Join us every third Thursday of the month for an evening of drawing in the galleries! Inspired by our exhibitions, discover new ways of seeing through art as we explore unique themes every month.
Thursday, December 15, 2016
NMAI-NY, 4:30-7:30 p.m,

To register for these free events, send an email to NMAI-NY-Education@si.edu.