Dear Friends of EOL,
One of the great joys of being part of the Encyclopedia of Life is working with adventurers. From the curious web explorer who visits EOL for the first time, to the dedicated student and citizen scientist, to the seasoned research professional and educator, we are a community of explorers. Last year, over 6.5 million of you visited EOL, and based on what you've shared with us, your appetite for biodiversity knowledge shows no signs of decreasing.
Over the last year, we've worked hard to grow the EOL community around the world, to discover and mobilize new data, meet new partners, and broaden our engagement with communities of practice. As you'll read in this newsletter, our work is as diverse as the audiences we serve. Over the next month, the EOL team is busy migrating our data center to a new, state-of-the-art platform that can keep pace with demand. And there's so much more we look forward to telling you about this year.
As always, thank you for being part of the EOL community. We look forward to hearing from you, and we hope that your spirit of adventure is as strong today as it's ever been before.
All the best,
Bob Corrigan
Director of Operations
EOL Secretariat
National Museum of Natural History
Washington, DC
| | |
| --- | --- |
| | |
| Rhodophyta (Red Algae) Image Credit: D.S. Littler, via Smithsonian Institution, National Museum of Natural History, CC-BY-NC-SA | |
Learning Resources

Explore EOL's newly redesigned
Learning Resources
that group EOL collections, podcasts and learning activities under topics including Behavior, Invasive Species, Biological Classification and more.
Two new articles about
algae
and
evolution
have been added to our popular
Topics in Biodiversity
section of introductory articles that provide links to more in-depth information and media on EOL.
| | |
| --- | --- |
| | |
| | Sea otters (Enhydra lutris) and their lunch were a topic for discussion at the tea talk. Image Credit: edwardrooks, via iNaturalist, CC-BY-NC |
Global Biotic Interactions (GloBI)
is our partner for interactions data, such as predator-prey relationships. The GloBI leader, Jorrit Poelen, was recently
invited to give a tea talk
to ecologists at UC Berkeley.
These talks are a great opportunity for new data projects to present their tools to a research audience, and find out what additional tools that audience would like. The data hungry biologists in attendance discussed methods to motivate data sharing, and how to monitor data availability. You can find GloBI data in EOL taxon pages,
like this one
.
TraitBank, EOL's structured data resource, has grown to 11 million data records for over 1.7 million taxon pages. TraitBank data are starting to appear in scholarly publications, like the bird life history and behavioral traits used in
Barnagaud et al.'s analysis of the Brown-headed Cowbird
, a brood parasite in the nests of other birds. In other data news, you can now ask TraitBank
who is bioluminescent?
Did you know that you can share your knowledge about animals, plants, fungi or microbes on EOL? Simply log into your EOL member account, navigate to the page for your favorite group of organisms, and look for the
add an article
button in the Detail tab. Be sure to cite your references! Your contributions will remain in unreviewed status until an EOL curator promotes them to trusted status, but people will be able to see your articles while they are under review.
Events
Find EOL at These Upcoming Events

2015 Citizen Science Association:
Staff from EOL attended the
2015 Citizen Science Association meeting
to explore new collaborations in citizen science and recruit new partners for ongoing projects. Marie Studer of the EOL Learning + Education group was part of the Supporting Multi-Scale Citizen Science symposium and Jen Hammock of the EOL Species Pages group
presented
a preview of new citizen science search and notifications services in development for EOL this year.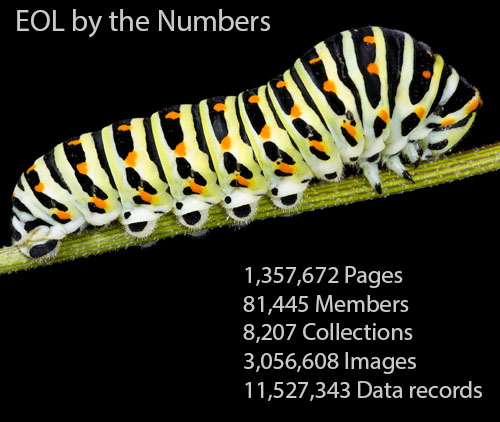 Caterpillar of the Old World Swallowtail (
Papilio machaon
)
Image credit: Didier Descouens via Wikimedia Commons, CC BY-SA
Don't forget to follow us on
Facebook
and
Twitter
!


Masthead photo: (c) by Maryam Laura Moazedi, CC BY