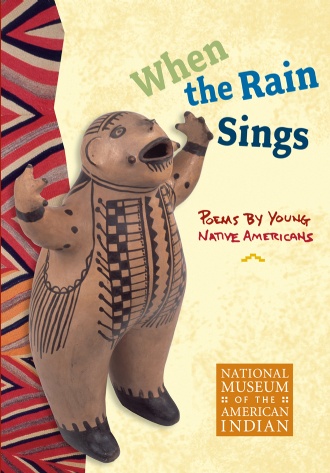 For When the Rain Sings: Poems by Young Native Americans, Native elementary and high school students were invited to write a response to historical photographs or objects from the museum's collections. Use these suggestions to engage your students with this book, and pair them with your school's language arts curriculum. Discover More NMAI Books for Young People!
Check out two new books, one from one of our favorite publishers:

Inhabit Media, an Inuit-owned publishing company located in Iqaluit, Nunavut, that preserves and promotes the stories, knowledge, and talent of the Inuit in northern Canada!
Named the Huffington Post's Best Bedtime Book of 2014! This beautiful bedtime poem, written by acclaimed Inuit throat singer Celina Kalluk, describes the gifts given to a newborn baby by all the animals of the Arctic. Sweetest Kulu, an Inuktitut term of endearment often bestowed upon babies and young children, is infused with the traditional Inuit values of love and respect for the land and its animal inhabitants. Written by Celina Kalluk, illustrated by Alexandria. Neonakis, Ages birth-6.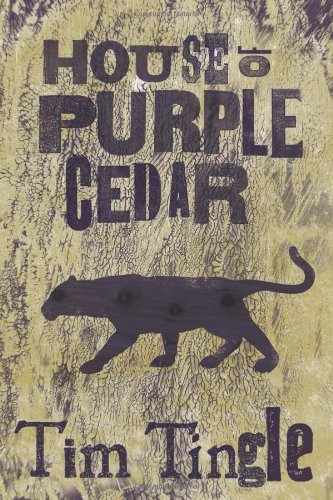 Listed on American Indians in Children's Literature's list of the best books of 2014, House of Purple Cedar follows Rose Goode (Choctaw) in Indian Territory in pre-statehood Oklahoma, where the arson on New Year's Eve, 1896, of New Hope Academy for Girls kills twenty of Rose's classmates. Written by Oklahoma Choctaw scholar Tim Tingle, this intriguing tale sheds light on his tribe's multifaceted responses to intrusion by land-grabbers. Ages 15 and up.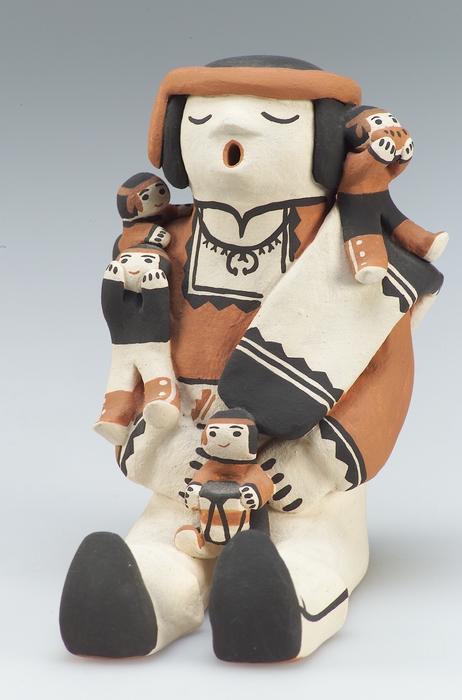 Storyteller figure, 1991. Made by Rose M. Brown, Cochiti Pueblo/San Ildefonso Pueblo. 25/5090
Storyteller dolls are a relatively new form of pottery art. The first storyteller figurine was crafted by Cochiti Pueblo potter Helen Cordero in 1963. The doll represented her grandfather telling her traditional stories.


Dear teachers,

Did you know that some tribes only tell certain stories after the first snow of the winter, when it is safe to talk about certain animals that are hibernating? Across all of our cultures, storytellers are often our children's first teachers, and they are particularly esteemed in indigenous communities. Storytelling teaches cultural values, captivates our imaginations, and shares some of life's most enduring lessons. This issue of NMAI's teacher e-newsletter shares the myriad forms storytelling can take and highlights excellent book selections to use with your students.

One of the first ways non-Native children are introduced to Native culture is through Native American-themed picture books, which is why it is vital to use culturally appropriate books that accurately depict Native peoples. Please start with the American Indian Library Association's guidelines here and use this criteria rubric as a tool to understand what books are culturally appropriate and why. Our hope is that these resources and ideas can help you bring the power of Native stories into your classroom!

Niyaawe! (Thank you!)



Renee Gokey (Eastern Shawnee/Sac and Fox/Miami) Education Extension Services





NEVER ALONE
Never Alone (Kisima

Inŋitchuŋa

) is an atmospheric puzzle-platform game for middle and high school students that is based on a traditional Iñupiaq story known as Kunuuksaayuka. The story follows a young Iñupiaq girl (Nuna) and an arctic fox as they search for the source of an endless blizzard that threatens her village and everyone's survival. This educational game, narrated in Iñupiaq with English subtitles, also shares the culture and values of the Iñupiat community through collaboration with nearly 40 Iñupiaq elders, storytellers, and community members. The game consists of eight "chapters" that tie into life lessons and includes video of real elders explaining the cultural and ethical aspects of the saga. The game was created through a unique partnership between the Cook Inlet Tribal Council, a pioneering Alaska Native tribal organization, and E-Line Media, a leading developer and publisher of digital games that engage and empower. Parent Guide and Read More.

The name "Iñupiaq," means "real or genuine person"
(inuk = "person" + -piaq = "real, genuine"). It can refer to an individual from this group and can also be used as an adjective. The plural form of the noun is "
Iñupiat

," referring to the people collectively. Alaska is home to about 13,500 Iñupiat, of whom about 3,000, mostly over age 40, speak the language.
Everyone tells stories, and stories have always been a great way to teach children! Hok-noth-da? ("Did you hear?" in the Shawnee language) gives kindergarten through third-grade students a chance to hear a story from a particular tribe and engage with hands-on objects and photographs that deepen their understanding of the tribal community represented in the story. Hok-noth-da? begins at 10 and 11:15 a.m. and lasts approximately 45 minutes. The museum can accommodate up to 30 students per time slot. The program is offered Tuesday through Friday, September through May, at NMAI-DC.
Sign-up here.

Indian Removal and Discussing Difficult Topics in the Classroom
Across the United States students are taught about the removal of eastern Indian tribes to lands west of the Mississippi. In order to acquire new lands for Euro-American settlers and remove Indians from the path of westward expansion, Congress in 1830 passed the Indian Removal Act, which authorized the president to make treaties in which Indian tribes would exchange their eastern territories, often under coercion, for new lands in the west. However, this treatment was not limited to eastern tribes. Between 1829 and 1851, no fewer than 31 Indian tribes were removed from their homelands, often under force. The next issue will provide resources and strategies for how teachers can discuss difficult topics and ensure that events in American history are told more accurately.





2015 marks the 10th anniversary of Poetry Out Loud, a partnership between the National Endowment for the Arts and the Poetry Foundation. Since the program began, more than 2.7 million students from all over the country have participated. In 2014, Shivalo Soldier Wolf, a junior at Little Wound School in Kyle, South Dakota won his state competition and received a free trip to Washington, DC to compete for a $20,000 award and the title of National Poetry Out Loud Champion. He was a finalist at Nationals in DC and has since become a spokesperson for poetry and his Native community. Soldier Wolf recently made remarks at the Circle of Nations School in Wahpeton, North Dakota.