Red Jacket A Distinguished Seneca Chief, 1833. by Charles Bird King. Colby College Museum of Art,

The Lunder Collection,




2013.172. Photo by Peter Siegel, Pillar Digital Imaging LLC.





"Americans are missing the treaty

story." —

Suzan

Shown Harjo (Cheyenne & Hodulgee Muscogee)



The new exhibition at NMAI-DC,

Nation to Nation: Treaties Between the United States and American Indian Nations,

explores the diplomacy, promises, and enduring survival of 200 years of treaty negotiations and agreements between the U.S. government and sovereign Indian Nations. Long before European contact, diverse Indian Nations with distinct languages, governments, and cultures made official diplomatic agreements with one another. As European colonies spread along the Atlantic Coast, Indian Nations' sovereignty was honored and treaties were necessary to maintain relationships and official agreements. The Founding Fathers adopted the colonial practice of negotiating treaties with Indian tribes after the American Revolution. One of the earliest treaties between American Indians and Europeans was the 1646 treaty between the English and the Powhatan. Later, the newly formed U.S. government began making treaties with Indian Nations. Many of the early treaties were about establishing relationships either as friends or allies or as partners in trade or commerce. Today, treaties continue to affirm American Indian tribes as sovereign nations in the United States.




Studying America's tumultuous history and the central role treaties with Indian Nations have played in providing most of the land and resources that are enjoyed today is fundamental to understanding this country's origins. It's also crucial for American Indian people to understand their specific Nation's treaty history and its importance today. Knowing this history and its relevance to contemporary life is crucial to understanding American values of freedom and justice and how these ideals have been practiced, tested, challenged, and, in our best moments, affirmed.

The United States would be unimaginably different had the history of European contact with Native peoples not occurred as it did. Today, treaties continue to be the supreme law of the land, sanctified by the U.S. Constitution and in oral traditions and wampum belts of many Indian Nations. Indian Nations continue to fight to retain and assert rights that were agreed upon with the United States, and every American has inherited the rights and obligations made in treaties. As U.S. Supreme Court Justice Hugo Black said in 1960, "Great Nations, like great men, should keep their word." Treaties are forever.



Happy Native American Heritage Month!

This issue provides a brief introduction to our

newest exhibition at NMAI-DC,

Nation to Nation: Treaties Between the United States and
American Indian Nations

. In subsequent issues,

we will introduce additional treaty stories, topics,

and resources that can be incorporated into your classroom. We know that teachers are looking for American Indian-related resources they can depend

on and a better understanding of Native culture and history that is often missing. Please consider using

the resources we provide in your classrooms

beyond Native American Heritage Month and

throughout the year ahead.

Renee Gokey

(Eastern Shawnee/Sac and Fox/Miami)

Education Extension Services





From shell to bead to belts, learn the cultural
significance and historic story of wampum.
February 6 & 7, 2015 from 10 a.m. -- 5 p.m.




The Treaty of Canandaigua

by Robert Griffing, 6'x9' oil painting.

Courtesy of Paramount Press
This painting depicts the Canandaigua Treaty signing on November 11, 1794, when over 1,200 Haudenosaunee people and leaders and Colonel Timothy Pickering solidified negotiations that affirmed peace and friendship between the Haudenosaunee and the United States. The artist asked contemporary Haudenosaunee descendants to pose so that he could be more accurate in his depiction of Haudenosaunee history and culture. For the classroom! Treaty of Canandaigua Painting


LEADERSHIP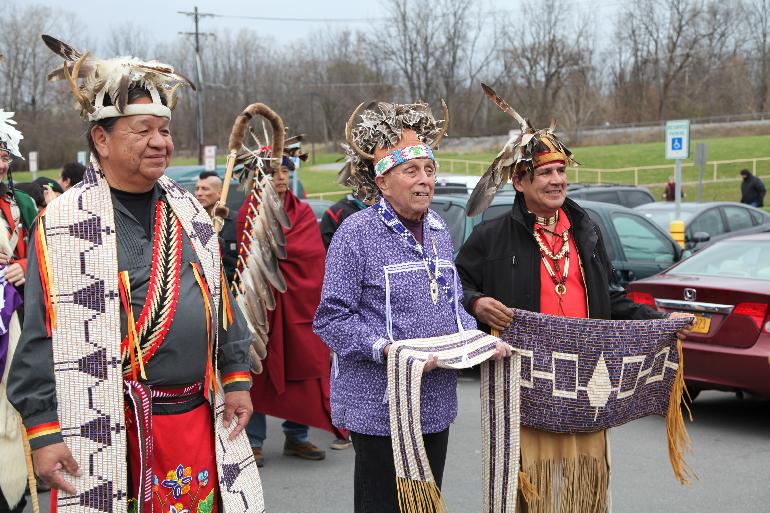 Canandaigua Treaty Day Parade, 2013, Canandaigua, New York. Pictured (from left to right) Sam George (Cayuga), Leo Henry (Tuscarora), and Jake Edwards (Onondaga). Photo by Skaruianewah Logan.
This annual commemoration celebrates and acknowledges the importance of the Canandaigua Treaty. What do you notice about the leaders pictured? The antler headdress is worn by a chosen male leader called a hoyaneh. Each of the men pictured are holding a wampum belt. Sam George is wearing the George Washington Belt, made when the 13 United States and the Haudenosaunee made a peace treaty with President George Washington. Find out more about the leaders' headgear, or gustowehs, the role of clan mothers in nominating leadership positions, and the importance of wampum belts in the Haudenosaunee Educators' Guide.


As teachers, you may teach about American leaders such as Pocahontas, Chief Joseph, Tecumseh, Sacagawea, or Sequoyah. This year's National History Day theme is "Leadership and Legacy in History," and we hope you and your students find some of the leaders below as interesting and aspirational as we do! Uncover their compelling stories and pivotal place in history and deepen your students' understanding!


Suzan Shown Harjo (Cheyenne and Hodulgee Muscogee) Photo by Paul Morigi/AP Images for The Smithsonian's National Museum of the American Indian

Suzan Shown Harjo (Cheyenne and Hodulgee Muscogee)-

is a leader and policy advocate for American Indian rights who has helped Native peoples recover more than one million acres of tribal lands. She has also contributed to development and passage of federal legislation protecting Native sovereignty, cultures, languages, and human rights. These include the 1978 American Indian Religious Freedom Act, which protects Native Americans' religious freedom. Today she also works on getting sports teams to drop racially offensive mascots and racial slurs that promote negative stereotypes of Native Americans. This month, she will receive the Presidential Medal of Freedom, the nation's highest civilian honor!




Billy Frank Jr. (Nisqually) Photo by Tom Thompson, courtesy of Northwest Indian Fisheries Commission.



Billy Frank Jr. (Nisqually)- was an environmental leader and treaty rights activist known for his grassroots campaign (he was jailed more than 50 times) for fishing rights in Washington state during the "Fish Wars" in the 1960s and 1970s. Billy Frank's tenacity and willingness to help officials understand treaty rights resulted in a landmark decision in 1974 (U.S. v. Washington) where Judge Boldt established 14 Indian treaty tribes in western Washington as co-managers of the salmon resource with the state. The case reaffirmed tribal rights to half of the harvestable salmon in western Washington.






Tribal Council of the Paiute Indian Tribe of Utah, 2014.

MEET NATIVE AMERICA ---

This weekly blog contains

quotes that can be used to

connect students with information on Native communities.

Teachers and students can learn directly from tribal leaders (chiefs, chairwomen and chairmen, presidents and governors) about their tribal history, location, population, mentors, leaders who have influenced them, and how their tribal governments are constructed and deal with the U.S. government on a nation-to-nation basis.

Watch this free one-hour film with related curriculum for your classroom,

courtesy of Vision Maker Media and PBS!




In Standing Bear's Footsteps In 1877, the

Ponca people were exiled from their Nebraska homeland to Indian Territory in present-day Oklahoma. To honor his dying son's last wish to be buried in his homeland,

Standing Bear set off on a grueling, 600-mile journey

home. Captured enroute, Standing Bear sued a famous

U.S. army general for his freedom--choosing to fight

injustice not with weapons, but with words. The chief

stood before the court to prove that an Indian was a

person under the law. Find out if the judge was able to

see if Standing Bear (and other American Indians at that

time) were deserving of the same human rights as whites.



Damon Roughface (Southern Ponca Tribe) portraying Chief Standing Bear in

In Standing Bear's Footsteps

. Photo by Christine Lesiak.

Standing Bear (Mon-Chu-Non-Zhin) (Ponca). Albumen print

by C. M. Bell, 1881, Washington, DC, NMAI P00474.



ARTICLES
Northern Tribes Buffalo Treaty article from Indian Country Today



BOOKS
Barriero, José. Indian Roots of Democracy.
Akwe Kon Pr,

1992.



Fadden, Ray (Tehanetorens) Wampum Belts
of the Iroquois.Tehanetorens, 1999.

Mateusz, M.G., Treaty of Canandaigua, 1794: A Primary

Source Examination of the Treaty Between the United

States and the Tribes of Indians Called the Six Nations

.

Rosen Pub Group, 2005.



Schein, Anna M., Treaty of Canandaigua, 1794.

Clear Light

Publishing, 2000.



WEBSITES
Honor the Two-Row

Ganondagan Community

Haudenosaunee Clan Mothers



What Benefits Do Indians Receive from the U.S.
Government?



Before the government of the United States was formed, Native American tribal peoples governed themselves, held lands in common for their members, and clearly related to one another as sovereign entities. Beginning in the earliest days of the English colonies, government-to-government treaties, court decisions, acts of Congress, and presidential actions recorded nearly two hundred years of huge American Indian contributions to state and federal landholdings. In return, tribes were offered payments, ever-smaller reservation lands, and a number of government services. Over the decades, the services and payments have varied widely in quantity and quality.





Do you want to win a free book?

Send us your ideas for a new name for this newsletter! Is there an appropriate word in your Native language that means "to teach," "teacher," or "to learn"? Please send us your ideas and we will put your name in a drawing. If we select your name, we will send you our new exhibition book, Nation to Nation: Treaties Between the United States and American Indian Nations.




Native American Children's Literature



One of the most common questions from teachers is

on how to select culturally appropriate and accurate

children's books for the classroom. Our next issue

will focus on literature by and about Native Americans

and give you tools and strategies for selecting the

best books for the classroom!