Wild Rice Harvesting, 1998. Courtesy of Bill Lindner, Bill Lindner Photography.

Did you know? Manoomin (wild rice) harvesting season begins mid-August and goes through September! The Leech Lake Ojibwe protect manoomin plants by requiring the use of traditional harvesting methods. Push poles pictured above, are designed to not disturb the delicate root system of the rice beds.



EDUCATORS OPEN HOUSE
Thursday, October 16, 4-6 p.m.
NMAI-NY
Join Alexandra Harris (Cherokee), the editor of the companion catalog for the exhibit, For a Love of His People: The Photography of Horace Poolaw, as she describes the significance of Poolaw's work. Afterwards, educators can tour the gallery. Register for this free event.

TEACHER WORKSHOP: WHY TREATIES MATTER
Saturday, November 15, 2014
NMAI-DC
Explore the new Nation to Nation exhibition with historian Mark Hirsch and utilize classroom resouces with education content manager, Ed Schupman (Muscogee), as he shares resources for the classroom.



Play engages students & teachers!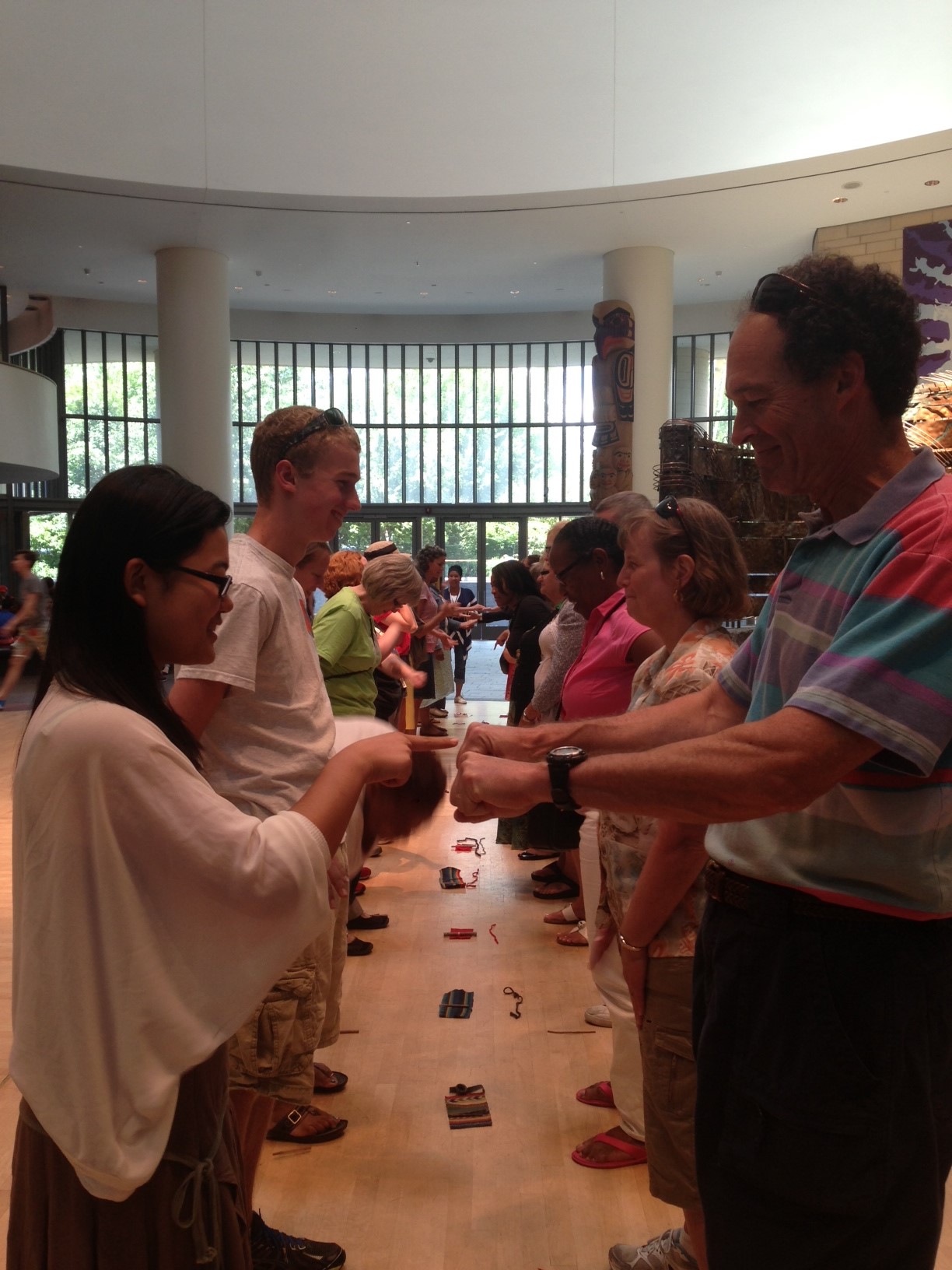 Teachers playing Rock-in-Fist game at NMAI-DC last month. Photo by Katherine Fogden.

"I am excited to share this with my school team. Great exercise and opportunity to learn about culture in a fun way!"
-Ana Wein, teacher



Traditional Games Bibliography
Moccasin Game Lesson Plan



Craig Falcon (Blackfeet/A'aninin) and teachers at

NMAI-DC

workshop. Photo by Katherine Fogden.


Boozhoo (Hello in the Ojibwe language) Teachers!

As school begins, we are excited to introduce you to our interactive website called American Indian Responses to

Environmental

Challenges and resources to support bringing Traditional Native American Games into the classroom.

American Indian Responses to Environmental Challenges is a website for environmental science, language arts, and social studies classrooms and educators. This rich interactive resource encourages environmental and language arts literacy while addressing Next
Generation Science Standards (NGSS) and Common Core State Standards. By showcasing the environmental

challenges of the Lummi (WA), Leech Lake Ojibwe (MN), Campo Kumeyaay (CA), and Akwesasne Mohawk (NY), the website addresses both NGSS and social studies standards by expanding knowledge about Native people's scientific responses to environmental concerns. American Indian Responses to Environmental Challenges engages students with over 20 interactive features and provides lesson plan ideas and additional teacher resources. Students can watch videos, examine object photos, take a quiz, explore territory maps, and discover American Indian environmental and cultural traditions!




We are proud to announce that NMAI hosted a teacher workshop in July called Ways to Teach, Ways to Learn: Traditional Native American Games in the Classroom and it was a huge success! Thanks to Craig Falcon, Executive Director of the International Traditional Games Society, for presenting on the value of playing Native games with students in the classroom. Traditional Native games have the ability to teach history, cultural values and Native perspective through fun, engaging play! Teachers walked away from the workshop with lots of hands-on experience, quite a few laughs, time to share teaching strategies, and new resources to create a successful classroom activity.

In August, NMAI collaborated with the Museum of Indian Arts and Culture (MIAC) in Santa Fe, NM, to bring teachers together for a similar workshop. Thanks to MIAC Director, Della Warrior (Otoe-Missouria) and Marla Redcorn-Miller (Kiowa/Osage/Caddo), MIAC Museum Educator for their help organizing this event, where presenter Lee Lomayestewa (Hopi) shared games that he learned as a boy growing up.
As a prelude to playing traditional games, teachers discussed local history and culture and shared their community's knowledge that relates directly to key events of American History. Some of the meaningful discussions revolved around ideas of working together, seeking multiple viewpoints in order to understand more complete histories, and articulating your position on a subject; all key components of 21st Century learning skills that K-12 students need to be fluent in!

Niyaaway! (Thank you in the Shawnee language)

Renée Gokey (Eastern Shawnee/Sac and Fox/Miami) Education Extension Services


Teachers playing Stone People game at NMAI-DC, which helps develop memory, spatial organizing, and storytelling abilities. Photo by Katherine Fogden.



Nation to Nation: Treaties Between the United States and American Indian Nations
Opens September 21, 2014 at NMAI-DC
From a young age, most Americans learn about the Founding Fathers, but are told very little about equally important and influential Native diplomats and leaders of Indian Nations. Treaties lie at the heart of the relationship between Indian Nations and the United States. The exhibition tells the story of that relationship, including the history and legacy of U.S.- American Indian diplomacy from the colonial period through the present.