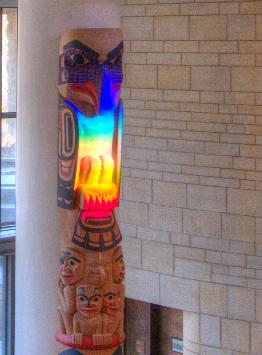 Equinox rainbow cast in the Potomac Atrium at NMAI-DC on March 20th, 2014. Photograph by Mark Christal.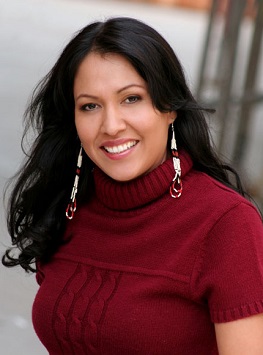 Avis Charley (Dakota/Diné) Photograph by James Franklin, courtesy of Avis Charley.



In the Moment, drawing by Avis Charley (Dakota/Diné), colored pencil.
Photograph courtesy of Avis Charley.




What do you notice about the drawing In the Moment?

How is this drawing different or similar from Plains historical narrative art?

To learn more, click on this Teacher Resource:
Art Key PDF


Hello Teachers and Happy Spring,

As spring arrives, we are pleased to share a special issue of the teacher e-Newsletter with you in honor of Women's History Month! Women's roles as carriers of life, teachers, and knowledge bearers is a great gift, and we wanted to recognize and thank all of the women who make positive contributions to the lives of others.

Native communities also celebrate women and new life. In different Native communities, there are distinct ways that we acknowledge and honor the signs of spring and the budding life around us. In fact, for many Native communities, spring is when the new year is celebrated and is a time of purification. In some tribal communities, the singing of frogs marks spring activities, such as preparing the ground and seeds for planting. In other Native communities, the first thunders may be honored as signifiers of the beginning of a new year and coming rain. However you honor the new season, we hope this issue of our teacher e-Newsletter makes it a little bit brighter.

Niyaaway! (Thank you!)

Renee Gokey (Eastern Shawnee/Sac and Fox/Miami) Education Extension Services

IN CELEBRATION OF WOMEN'S HISTORY MONTH:



The Art of Avis Charley



Avis Charley is a graphic artist of the Ihanktonwan Dakota Oyate band of the Oceti Sakowin and Diné (Navajo) descent. Her family is from the Spirit Lake Reservation in North Dakota, and the Diné are from the Four Corners region (Utah, Colorado, New Mexico, and Arizona). Avis was born and raised in Los Angeles, California.

In her early years she was a graffiti artist, and later went to art school to hone her skills. Her medium of choice is ledger drawing, a style of drawing that was historically practiced by Native men on the plains. Drawing from her ancestry, Ihanktonwan Dakota Oyate, Avis visually documents scenes that are important in her life. Although she works in a historic style, she contemporizes the art form by adding her own personal touch. Avis is one of a handful of contemporary Native women artists who work in this tradition.


To learn more, click on these Teacher Resources:
Why should I teach this? PDF
Art Key PDF




Cherokee Days
NMAI-DC - April 3-5, 2014

For the first time in intertribal history, the Cherokee Nation and the Eastern Band of Cherokee Indians are partnering to host "Cherokee Days," a public educational program that shares the true Cherokee story. The program includes a three-day festival featuring food, dance, music, demonstrations and films.


Image courtesy of the Cherokee Nation.